If Your Office Doesn't Merge Company Branding & Design, You Should Start Now
Since employees are the only people experiencing office design, is it even important that the office design reflects a company's brand? Actually, most experts say it's almost necessary to have loyal and engaged employees. Companies want employees that embody their company values in order to be a brand's representative. According to Work Design Magazine, the workplace environment, "accounts for as much as 25 percent of job satisfaction" and contributes to performance "by as much as 5 percent for individuals and 11 percent for teams". 
Method
Credit: Office Snapshots
Method is prime example of an office that reflects the brand identity and tells the story of their company mission. Method's company mission aims to "inspire a happy, healthy home revolution…" with their line of natural home products like biodegradable cleaners and laundry products. To reflect their sustainable brand, their San Francisco office is located in a LEED-certified building and is constantly looking for new ways to make their community greener starting with recycled furniture and energy efficient lighting. 
Scalleway Offices
Credit: Office Snapshots
On the more literal side of branded office design, Scalleway's office in Lille, France is more obvious in their brand's identity. Scalleway is a technology company that specializes in the "the atypical" which is reflected in their extravagant design style. One of their most popular products involves their revolutionary cloud platform which is the reason for their very-themed cloud/sky room. Although, the cloud isn't the sole design for the entire office. To further exemplify their unique brand, some examples of the other rooms in their Lille office are themed after a jungle which features wild plants, palm trees, and monkey figurines as light fixtures. Another uniquely-designed workspace in their office is their "Duck Room" that features vibrant yellow interior and a large duck statue with the purpose to inspire creativity. 

NBA Offices
Credit: Office Snapshots
Other than the obvious branding of the well-known logo and basketballs in every corner, the NBA offices in Mexico City showcases the excitement of the game by offering a creative workspace for their employees. The basketball floors, large in-action murals, and industrial interior design are just a few of the key elements that help represent the overall sport-aesthetic the brand is known for globally. The KMD Architects designed the Mexico City office to "provoke a remembrance of the origins of basketball" and to "to give its employees a strong sense of belonging" starting from the welcoming reception area to the "All Hands Space". This flexible space serves as an open area for workshops, meetings, or team presentations.
BreezoMeter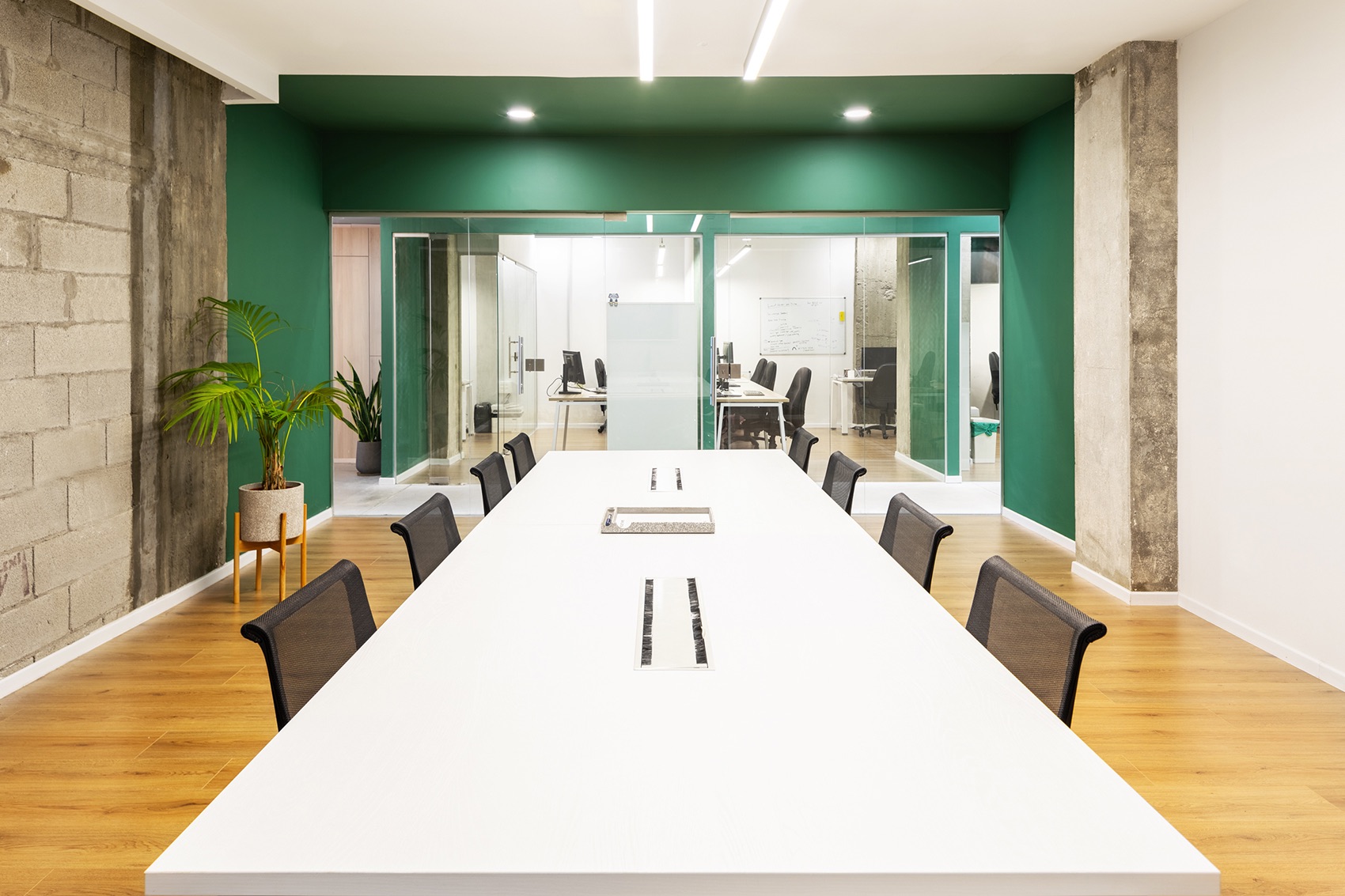 Credit: Office Lovin'
In comparison to the previous offices, BreezoMeter merged their branding with office design with simple design elements like paint colors and glass walls. BreezoMeter is a global software company specializing in air quality reporting technology. Similar to Method, Breezometer's office design is based on their initiative for a more "green" planet that is represented with the green walls and green tints in all lighting fixtures across the office.  As a software company, open-office layouts are not suitable for the private work required for the job but the office feels "open" with tall-glass walls to mirror their goal in building a better environment together. 
Google – Kuala Lumpur
Credit: Office Snapshots
Google's Kuala Lumpur Office design is based around one of Google's core values – "oneness". The collaborative and open layout is designed to bring together all "Googlers" which are the project developers who work in the office and Google's users. Different beach and rainforest elements are spread around the office to represent Malaysia's topography where these "Googlers" live to better support the office's goal of "bringing Google people, customers and ideas together." The office space features many collaboration spaces like their "Tech Talk" amphitheater and open cafes used for impromptu meetings.
Office design to better reflect a brand's story does not have to be as involved as monkey lamps or life-size basketball player mannequins for some companies. For others, the design reflects their core values and goals for the future like sustainability instead of an elaborate office project. Regardless, maintaining the outside brand image on the inside of the office is important to build a harmonious company.
For further insight into workplace design, join the Future Offices Winter session, "Going Beyond The Boundaries Of Expected Workplace Design" on Main Conference Day 1.